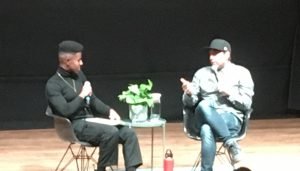 The setting sun cast orange light and long shadows across the garden courtyard inside the Oakland Museum of California (OMCA). A line snaked and doubled back on itself as people kept arriving, adding to the line's length. The line represented different ages, nationalities and colors of people, but they were all here for the same reason — they all gathered to see Oakland-born author Tommy Orange discuss his best-selling debut novel There There.
The James Moore Theatre at OMCA has a capacity of 261. Capacity was reached close to an hour before the scheduled beginning of the discussion. An annex which screened a broadcast of the discussion, with a capacity of 90, would also be filled. A line still remained with countless hopefuls that would not see Tommy Orange speak.
Sybil Marcus did not make it inside but said she found the book to be "a window into the urban native experience" and came to the museum in hopes of hearing more.
Dressed in a black turtleneck, black fatigues, and clunky, tall, black Doc Martens, 2019 Oakland Youth Poet Laureate Samuel Getachew took to the indoor stage. A thin gold chain shone brightly on his chest, subdued only by the glow of his shy smile when he asked the audience if they wanted to hear a poem. Getachew recited a poem that reflected on the viral video "BBQ Becky." For the rest of the night the audience was in Getachew's control.
After Getachew finished his poem, he sat down to interview Tommy Orange. The two wordsmiths sat across from each other in original Herman Miller Eames chairs from the museum collection. The chairs looked very comfortable and the symmetry of their legs was hypnotic. A philodendron sat on a table dividing the two, and after some microphone difficulties, the interview began in earnest.
Orange sat hidden below a black ball cap with a long sleeve shirt buttoned tight to the chin. A large smile appeared frequently from beneath the dark cap, breaking Orange's otherwise serious demeanor. Getachew asked measured questions of Orange and created space for their answers. He sat patiently absorbing the response, and Getachew maintained a very strong structure for the benefit of the audience and remained engaged in the talk himself.
The discussion centered heavily on identity, gentrification, and Oakland. Orange likened Oakland to a really cool treehouse you build, and then your older brother kicks you out of and takes credit for it, speaking to the ideas of exclusion and loss associated with what it means to be from Oakland. Orange said he felt that the answer to why someone lives in Oakland, or claims Oakland as an identity, can tell a lot about their motives.
Mei Mei, a spectator who came from San Francisco, has only lived in the Bay Area for two years. "I think everyone who lives here should read this book, especially transplants," Mei said.
Orange didn't read growing up and focused more on athletics. It was in the early 2000's he became interested in reading, first with Kafka and Borges. Orange was first captivated when he began to read works that had been translated. Orange felt the translation brought forward the outsider experience, which has influenced his work.
Orange spoke about being a non-white author and said that "white people writing about whatever they want is the history of literature." When questioned at the end of the event about how he felt writing in a woman's voice for parts of the book, Orange responded that not allowing his characters to be women because he is a man never seemed like a good enough reason.
An event goer named Jeanne, who declined to give her last name, said it is a "devastating book, and a gift to give the perspective that it does. "I cried a lot," Jeanne said. She was impressed by the strong powerful women in the book and said that she identified with them, and it gave her strength.
Orange said he works hard on his writing and spent close to seven years writing There There. He explained that sometimes writing doesn't always look like writing in the way we think of the solitary figure at a desk. It can happen in hotel rooms, or in his mind while running.
"I am naïve enough to believe that art can do work — that art can change people's hearts." Orange feels that his work is like layered history that informs the present, the most "interesting layer" to bring into art.
Orange confirmed that, in addition to a collection of short stories, he is writing a sequel to There There. News of the follow-up book brought large applause, which was followed by cheers of joy when he confirmed that Orvil lives.
An attendee who was unable to see the discussion, named Mae Chan, said this was the first piece of Native-culture fiction she had ever read, and in her cynicism expected the acclaim to be mostly due to the uniqueness of this work. She was surprised and happy to find the work to be moving and fitting with her ideas of racial justice, which is what inspired her to attend the event.
Orange said he still has a difficult time identifying as a Native American. He recalled a story that he when submitted a chapter of There There in the New Yorker, it was fact-checked. Orange emphasized this is a work of fiction being fact-checked. He went on to describe being Native as being "part of a post-apocalyptic group of people because literally, our world did end."