How Eleni Gastis' dedication inspires student success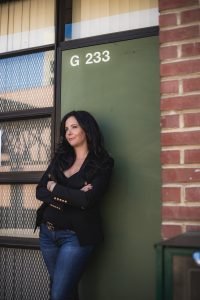 ​A renovated newsroom, updated curriculum, increase in enrollment, rebranded publication from the "Laney Tower" to "The Citizen," new website (in-process): these are just some of what Eleni Gastis has accomplished since taking over the journalism department at Laney. She is also vice president of the faculty senate, a coordinator of the Guided Pathways program and an outspoken advocate for diversity and student success.
Gastis was raised in Berkeley, CA. She suffered a detached retina in her right eye at the age of five and shortly after developed glaucoma, an eye disease that can cause permanent blindness. Between ages five to fifteen, Gastis would undergo more than 25 eye surgeries. Her life is still affected by these issues to this day.
While attending Berkeley High School, Gastis was bullied severely. She often spent time with her teachers when she wasn't hiding in the bathroom.
Despite these ordeals, Gastis found light in teachers that gave her shelter, hope and words of encouragement.
"I found that my instructors were my protectors, my motivators, and some of my biggest advocates," Gastis said.
After graduating from Berkeley High School in 2000, she enrolled in the Peralta School District and took classes at Laney and Berkeley City College. She credits her Laney instructors for her improvement as a student and inspiring her to become a journalist.
"Because I had that encouragement and positive reinforcement from folks, it motivated me to do well and find a career for myself," Gastis said. "So that's what I did."
"I ended up transferring to SF State and studied journalism and international relations."
Martin G. Reynolds, Co-Executive Director of the Maynard Institute, remembers her as a young student who sat near the front of his journalism classes.
"I always felt that she was very engaged with the class," Reynolds said. "She was very enterprising and had good questions."
Her hunger for knowledge led Gastis to an internship with The Argus, a Fremont newspaper that merged with other local publications to become the East Bay Times. Gastis held a night cops position, in which she listened to a police scanner and learned police codes but also allowed her to work on features and breaking news. Her work eventually led to a part-time job with the publication.
After graduating from SF State in 2006, Gastis left The Argus for a full-time job with the San Francisco Examiner where she covered major politics and public governmental figures such as Gavin Newsom and Kamala Harris.
Despite her successes, Gastis was unsettled by the changing nature of the industry and felt compelled to transition to something else. She said her father, who was an instructor at California State University East Bay (formerly CSU Hayward), inspired her to become a teacher.
"When I thought I wanted to leave reporting, he said, 'You can still work as a journalist, you can still freelance, but you can also teach people how to write,'" Gastis said.
Coming from five generations of teachers on her maternal side, having a father who was an instructor, and tutoring friends on writing essays when she was younger, Gastis was primed for becoming a teacher.
"Even though I tried to deny it for a long time, I had the teaching bug," Gastis said. "It's in my family."
Gastis would leave the Examiner and return to SF State in 2008, where she got her first taste of teaching through an assistantship program while obtaining her Master's in English Composition and Certificate in Teaching Post-secondary Reading.
After receiving her master's in 2010, Gastis jumped between colleges in pursuit of a full-time teaching position, a list consisting of Diablo Valley College, Laney, USF, Merritt College, Heald College, De Anza College before Laney became her permanent home.
"I taught anywhere they'd take me," Gastis said.
"If they told me 'Eleni, you're going to clean the toilet today,' I would've got down on my knees and did that because that's how bad I wanted a permanent teaching job."
As an instructor at Laney, Gastis inspires the next generation of journalism students.
Former Laney student Geremy Lowe credits Gastis for encouraging him to pursue journalism and apply to transfer to the University of California, Berkeley.
"Her passion for journalism, her love for people and support for me, empowered me to invoke my strongest potential," Lowe said. "Not only in my work, but also in my expectation of what was possible for my journey."
"Even though I tried to deny it for a long time, I had the teaching bug," Gastis said. "It's in my family."
Faculty Senate President Fred Bourgoin said the way Gastis welcomes students into her office is unlike anything he's seen.
"She'll make you feel comfortable, like you're absolutely welcome to come and see her anytime," Bourgoin said. "If she has an appointment with a student who's not doing very well, she'll try to find the backstory. That's the reporter in her."
"She's the most encouraging, friendly teacher that I know — I feel like Eleni really goes farther than most of us."
Eleni Gastis was destined to be a teacher, instructor, advocate and journalist for the betterment of society.
"I do spend a lot of my time working, but it's fulfilling to me, and it's important to me," Gastis said. "Waking up every day with a purpose should be the aim."
Reynolds, an alumnus of Laney, said that Gastis' desire to get into teaching impressed him. He said he was excited when he heard that she had taken over the journalism department.
"Eleni is going to be able to remake the paper in her vision of what it ought to be," Reynolds said. "I think she's gonna do really good for the students and make that a top-notch program at the junior college level."